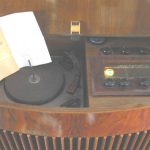 An interesting radiogram, coming onto the market during 1947. I acquired this from a junk shop in South London for the huge sum of 30 quid. With the valve line up this set has, I would have paid 10 times that.  These radiograms were very well made, having separate amplifier / PSU and radio sections. For those that could not afford the radio section (some 35 guineas was a probably 10 or more weeks wages) the set could be sold with this section removed, leaving just the deck and amplifier. The gram boasts a powerful 5 watts via two PX4 triode valves, driving three 8″ speakers mounted on a curved baffle with specially shapes wooden louvers deflecting the sound evenly around the room. Decca came up with a wide range pickup which, with a good stylus, is capable of excellent results. This coupled with a very good radio section design and the unusual speaker system, the sound quality produced can better most sets that were produced well into the '60s.
Didn't even power this up when I first got it, not wanting to risk damage to the output valves. AVO tester said they were all okay, in good order. All the capdensors replaced in the power supply – amp chassis and on power up, the amp worked well. Very little came out of the radio section, so a bundle of 0.1uF coupling and decoupling caps sorted that out. All wavebands worked well and very sensitive. The design of the radio is good and no expense was spared here during manufacture. Hardly any alignment was needed. The only thing was, as usual, the EM34 magic eye was zero display. I now have a limited stock of NOS, but this set had to have a nice bright new one.
The Garrard deck was totally jammed. A strip down and oil got it going after a struggle. 2 pickup heads were supplied with the machine, one for 78 RPM and the other for Microgrove. 2 new styluses were fitted, obtained from Musonic. I had to recreate the rubber suspensions within the pickups and remagnetise the little magnets to get a good output. The 78RPM and 33-45RPM heads are wired differently, so the input characteristics are catered for when changing the heads.
The sound quality is quite amazing. Playing a decent LP produces a lovely warm bass with plenty of high definition.  Probably the best gram in the collection.